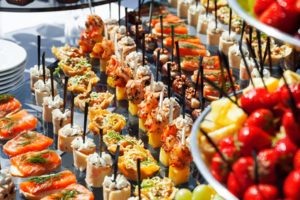 When tasked with planning a corporate event, be it a holiday party, client appreciation event, meeting with food provided, or any other situation where catering may be required, choosing the menu can be one of the most difficult steps.
In planning a menu for family and friends, you generally know their tastes, but with co-workers, choosing a menu that will work with a theme and provide everyone in attendance with food they will enjoy can prove difficult.
The experienced team at Raleigh Event Catering is here to help! In addition to providing insights and answering any questions you may have, we have provided below a few sample menus from corporate events we have catered in the past to help give you some ideas. You can also feel free to peruse our Catering Menu and Destination catering menu to further get your creative juices flowing and provide you with a comprehensive idea of the types of foods and menus we can  help you create.
Capital Ready Mix Concrete Holiday Party Menu
Capital Ready Mix 30th Birthday Menu
Franklin Hotel Employee Party Menu