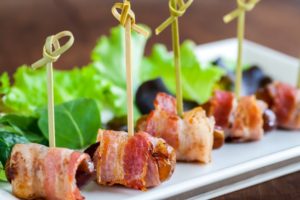 Regardless of the theme, style, time or setting of a wedding, the food served is one of the elements your guests are most likely to remember. At Raleigh Event Catering, we understand that this can make selecting a menu for your big day an overwhelming process.
We are completely dedicated to helping our clients make this part of the wedding planning process go as smoothly, and ideally enjoyably, as possible. We have years of experience and expertise to help our clients select menus that will perfectly fit their tastes, theme, budget, dietary restrictions and more. We can help with selections from hors d'oeuvres, to buffet stations, or even full sit-down dinners.
Below, we have provided sample menus from weddings we have catered in the past. We encourage you to use these, as well as our Catering Menu and Destination catering menu to help you start thinking about the menu you would like to have at your wedding, they are by no means exhaustive. If you have any additional questions, please contact us with any questions!
Ellwanger Rehearsal Dinner Menu