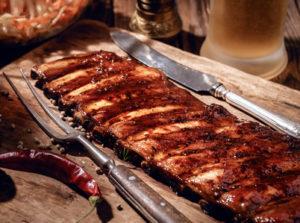 Raleigh Event Catering's Executive Chef, Nathan Junell is great at providing food for events large and small, but for clients interested in enjoying his delicious food outside of events, he is available for engagements as a private chef.
Nate received his Le Cordon Bleu Diplôme from Atlantic Culinary Academy in 2007 and since then, has benefited from the tutelage of extraordinary chefs and mentors both local and abroad. Chef Nathan has an impressive service record that includes Norwegian Cruise Line's Pride of America in Hawaii, The Washington Duke Inn of Durham, The Carolina Inn of Chapel Hill, and Mitchell's Catering of Raleigh.
Nathan has also operated as a chef for several premium corporate restaurant management and catering companies serving prominent corporations located in Research Triangle Park like: Cisco Systems, IBM, & NetApp – just to name a few.
Whether for a one-time or recurring arrangement, Chef Nate will work with clients to devise an ideal menu made up of traditional favorites or unique tastes, and anything in between. Raleigh Event Catering is proud to offer this service throughout the Triangle area of North Carolina, in Raleigh, Cary, Durham, Chapel Hill, Morrisville, Holly Springs, Fuquay-Varina and the surrounding areas.
To learn more about this service or arrange a Private Chef event, please contact Raleigh Event Catering. We look forward to working with you.